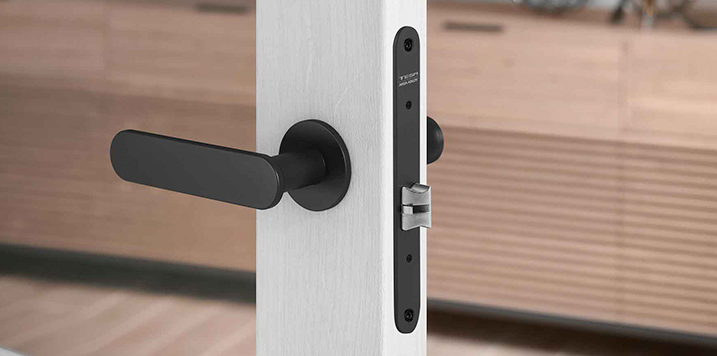 07 June, 2022
TESA ASSA ABLOY launches a new range of handles that stand out for their high performance and contemporary design with simple shapes, ideal for state-of-the-art surroundings. Tested according to the EN1906:2015 standard, Urban is available in zamak or brass, materials traditionally used in the manufacture of fittings that are very durable and highly resistant to corrosion. Not surprisingly, these new handles can withstand over 200,000 opening operations, fall under a grade 3 use category, and offer grade 4 resistance to oxidation according to EN1670:2007. The exclusive 5-year guarantee, both for operation and for resistance to corrosion in the entire range, is proof of the confidence that TESA ASSA ABLOY places in this product.
This new series aims to meet a growing demand among architects: handles with an eye-catching look that perfectly fit the surroundings they design, but at the same time ensure good performance for day-to-day use with high levels of durability.
The Urban series consists of several different models (Iceland, River, Radius, Flat, Sand, Plane, Majal, and Iceberg), in round and square 5 mm thick rosettes and with 4 high-quality finishes available depending on the model: polished chrome, satin chrome, polished brass, and black.
These door handles are complemented by keyholes, escutcheons, pull handles, and floor stops, making Urban a complete range that is adapted to current market requirements. Assembly is simple, there are just 5 steps, which makes it a good choice for installers as it will make their work easier.
This launch takes place alongside a review of the entire TESA ASSA ABLOY handle catalogue in order to adapt its offering to the current market situation. Whether for institutional or residential surroundings, it offers a wide range of door and pull handles, with various high-quality finishes such as stainless steel, antimicrobial or the recently introduced black finish, as well as electronic door handles such as the Code Handle.