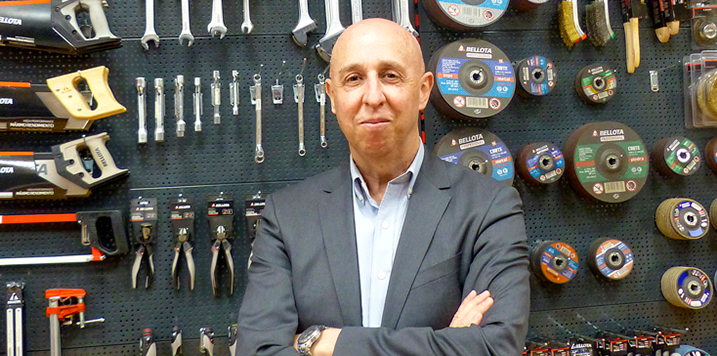 01 August, 2023
Pablo Izeta has been elected president of the Hardware and Industrial Supply Cluster, which represents 20 companies that manufacture hand tools and locksmith products in Spain.
Pablo Izeta, 56 years old and from Donostia-San Sebastián (Gipuzkoa), has a degree in Economics and Business Administration with a specialization in Marketing. He started working at BELLOTA 10 years ago as head of the Mexico subsidiary, where he spent four years before moving to Legazpi to act as general manager for Europe, Asia and Africa. Today he is the president of the company for Europe and LATAM.
Founded in 1908, Bellota Herramientas is a company based in Legazpi and belonging to the Venanpri Group, with origins in the former Patricio Echeverria Corporation, whose first company was founded by the Gipuzkoan businessman himself in Legazpi in 1908 with a blacksmith shop.
Bellota Herramientas is the leader in Spain in the hand tools market and is specialized in the design and manufacture of hand tools for professionals and users in agriculture, gardening, construction and industry. It is included in the Venanpri hand tools division, which employs 1,066 people around the world and which has production plants in Legazpi, Navarra, Colombia, Mexico and the United Kingdom.
The new president of the sectoral association also has extensive experience in ESKUIN. During the years 2011-2012 he participated in the incorporation of AFACE (Association of Locksmith Manufacturers) in ESKUIN, during the transition from Herramex and in the years 2017-2018 he represented BELLOTA on the ESKUIN board of directors.
ESKUIN is the Hardware and Industrial Supply Cluster that integrates 20 companies that manufacture hand tools and locksmith products, under the highestquality and safety standards. Its objective is to carry out actions aimed at improving the competitiveness of the sector through inter-company cooperation.
The ESKUIN companies reached a turnover of 443 million euros at the end of 2022, practically identical to that of 2021, the year in which they broke their turnover record. The year went from more to less; the national market showed somewhat more dynamism than the international markets, totaling 208 million euros, and an increase of 2.85% compared to the previous year. For their part, exports fell by 2.7%, compared to the sales reached in 2021.
After the first half of the year, the outlook for 2023 continues to be positive, despite the fact that, unlike the domestic market, the foreign market has slowed down somewhat. Despite this, sales in the sector are expected to remain the same or even grow slightly compared to 2022.