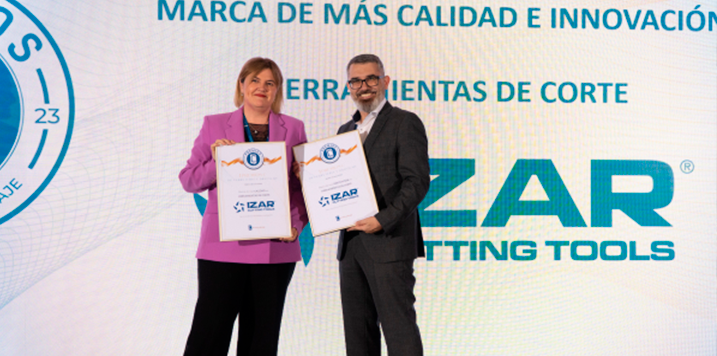 29 June, 2023
IZAR has received yet another display of the market's trust in its brand, this time in the form of recognition for the quality and innovation of its products.
The award presented by sector benchmark magazine, Cuadernos de Comunicación, and selected based on the surveyed opinions of almost one thousand distribution professionals who took part in an independent study carried out in recent months by the publication.
So, the sector has once again endorsed the manufacturer's commitment to continuously improving its product and service offering, which has brought it to the forefront of the Spanish market for this type of tools and reinforces its commitment to constantly releasing new solutions adapted to the needs of its clients and users, both in the industrial and professional areas.
The award ceremony, held in Madrid on 1 June, was attended by the company's CEO, Oscar De Manuel, the head of sales for the Iberian peninsula, Mónica González, and the region delegate, Joseba Ávila, who were proud to receive their accrediting diplomas.