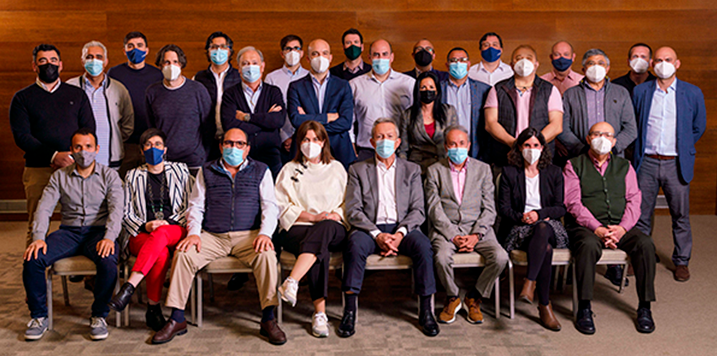 03 May, 2021
Despite all the difficulties brought up by these turbulent times of the health crisis, IZAR held its annual sales convention in Madrid on 22 and 23 April with the participation of the Spain and Portugal sales teams, which together with France comprise its natural market, where the company showcases its excellence in service.
In this past year, the IZAR sales teams have managed to stay in contact thanks to the internet and video conferencing, etc., but in-person contact has been greatly missed and, so the on-site convention was held with all the necessary precautions and protocols to enable this essential connection for a business of the people, as IZAR considers itself to be.
2020 ended up being a very reasonable year for the Amorebieta-based manufacturer. Sales figures were slightly below 2019 between March and June due to the lockdown of the economy, however, growth took off again in an unbridled manner in the second half of the year with month-on-month figures, both domestically and in exports, far beyond the company's expectations after the gloomy days of lockdown and the closure of all non-essential activity.
Even in the worst of the pandemic, IZAR always maintained its activity thanks to its classification as a supplier of essential industries and its significant export component, continuing also with its investment policy and improvement of its logistical capacity, where it reaches service levels of 99% of lines per day.
Looking towards 2021, the management plan of the leader in cutting tools was to recover 2019 sales figures this year; however, these projections have been far outperformed by the unparalleled reality, with double-digit growth. IZAR management does however, foresee certain risks on the horizon, such as increased raw material costs, which will have a direct impact on manufacturing activity and they, therefore need to tackle the reality head-on, "pulling together", as the slogan of the convention says, with a clear strategy, teamwork and a huge amount of personal effort.
In order to strengthen its position of leadership in cutting tool manufacturing, at the convention, IZAR presented new features both in terms of products, mainly Hard Metal, and also in marketing. In terms of the latter, the new industrial machining catalogue, geared towards the end user, took centre stage, not forgetting the promotion campaigns and full overhauling of the packaging of many of the tools marketed to the professional sector.
In short, IZAR got people engaged again, bringing together in Madrid a team that hadn't been able to connect in person for over a year; a team of motivated, qualified people, eager to take on the changing climate in which we are living and aiming to transform challenges into opportunities.