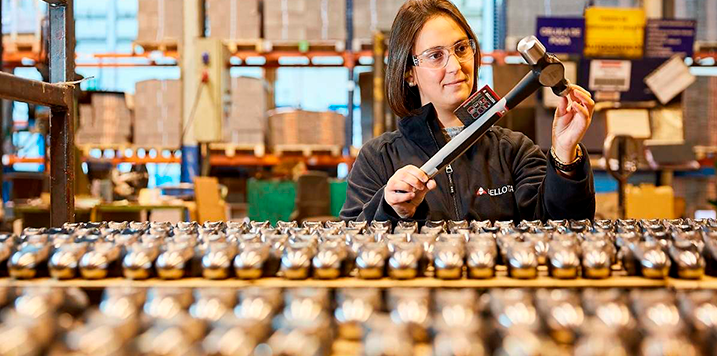 28 June, 2023
Bellota Herramientas, headquartered in Legazpi (Gipuzkoa), tackles strategic plan to transform its production activity, with the aim of continuing to grow on the market and be competitive with a high quality product. The knock-on effect is bringing back production which was located in Asia due to lower costs.
"These days almost all tool manufacturing is in China and we are one of the few who still have ironworks in Europe," explains Pablo Izeta, the Basque Group's general manager for Europe, Asia, Africa and Latin America, which has also been part of Canadian group Venanpri since 2015.
When China and India went into Covid lockdown, local factories like Bellota's regained market share.
Izeta also points out that activity has been supported by European grant aid. "For us, emerging from the crisis caused by the pandemic has been V-shaped, because agriculture was a protected sector and construction never stopped growing thanks to grants for home renovation, energy efficiency, etc. And we still have two or three good years ahead of us".
Industry 4.0
To cater to this growing demand, Bellota has begun an industrial transformation, mainly focused on increasing productivity in its Basque plant.
Hence, during 2022, Bellota invested 4 million euros in an automated hoe manufacturing line -the company's top-selling product, other than trowels- which will enable it to double daily production of the different models of hoe from 4,000 to 7,200; and hammers from 2,000 to 4,000.
"We have made a giant conceptual leap. We have brought ironwork automation to the hand tool and we are capable of doing short runs and very quick and flexible tool changes with low manufacturing costs, thanks to automation and the application of industry 4.0 concepts like predictive maintenance, quality consistency, etc.," explains the general manager of Bellota Herramientas.
This production is mainly aimed at countries in southern Europe, north Africa, the Middle East and Latin America. "We have suddenly become competitive and markets that were closed to us due to competition from China can now be approached by us at Asian prices but with western quality," says Pablo Izeta.
Moreover, Bellota now has access to markets like Germany and England, where there is demand for short runs and broad product variety, or the US market. "But, beyond investment -according to the Basque firm's director- the leap is qualitative in terms of production and competitiveness".
So, this year Bellota will be replicating the hoe line transformation on the trowel line to render it equally flexible and multi-purpose.
After automating hoe production, investment will go to trowels this year,
"With these changes, some products that we had stopped producing in Legazpi because they weren't competitive and had been taken to Asia, will now be able to be relocated, like for instance, axes. We are following the trend towards regionalisation of certain productions, where the key asset is sustaining the local factory network".
This year, 2023, four million is allocated to investments. Two of these millions will go to the Gipuzkoa factory, one million to inject funds into machete and spade manufacturing activity in Mexico, and one million to farming related products and expanding capacities and new technologies, such as laser cutting, etc. in Colombia.
In Legazpi, the trowel line change is awaiting a new press and implementation is planned for between July and August. "And from there, the target is to keep implementing changes each year and strengthening different production lines," states Izeta.
Bellota's future challenges include introducing production of new tool-related items, such as gloves and footwear, in order to kit out tool professionals with technical attire.
Electrical tool
On a mature market such as hand tools, Bellota sees the opportunity to continue growing into new product families By geographical area, professional farming and building users have different needs.
"In Latin American and African countries, hand tools are still widely used; but in Europe users are increasingly electrified and want tools to do the job faster, more efficiently and with a better finish. That's why we're investing in the 'Power Tools' project," says the general manager of Bellota. "For instance, electrical shears are used when harvesting and pruning vines in Spain because they increase productivity, cause less damage to the vine, etc.", says Izeta.
Bellota is increasing the perimeter with new products and also with exports. "We have been focused on construction markets for five years now. From Europe we have sales to around 75 countries and proactive sales in 15 with a focus on Eastern Europe, Greece, Italy, France, North Africa, Ireland and England", according to the lead manager for these zones.
Bellota has formed part of the Canadian group Venanpri since 2015, but originally commenced its activity in 1908.
Bellota Herramientas and Bellota Agrisolutions are two companies based in Legazpi since 1908 and forming part of the Venanpri Group since 2015. This group forecasts a turnover of 500 million in 2023. Bellota Herramientas is part of the tool division of Venanpri, which has a workforce of 1,066 employees and production plants in the Basque Country, Navarra, Colombia, Mexico and the United Kingdom. Bellota, Corona, Burgon & Ball are the main brands under which the tool division sells its products in the different regions.
In 2022 Bellota recorded a turnover of 54 million and this year forecasts approximately 60 million, with an estimated growth of 10%. The Legazpi facilities employ 550 workers, 160 of whom work in tools and the rest in spare parts for farming machinery.
Source: elEconomista.es